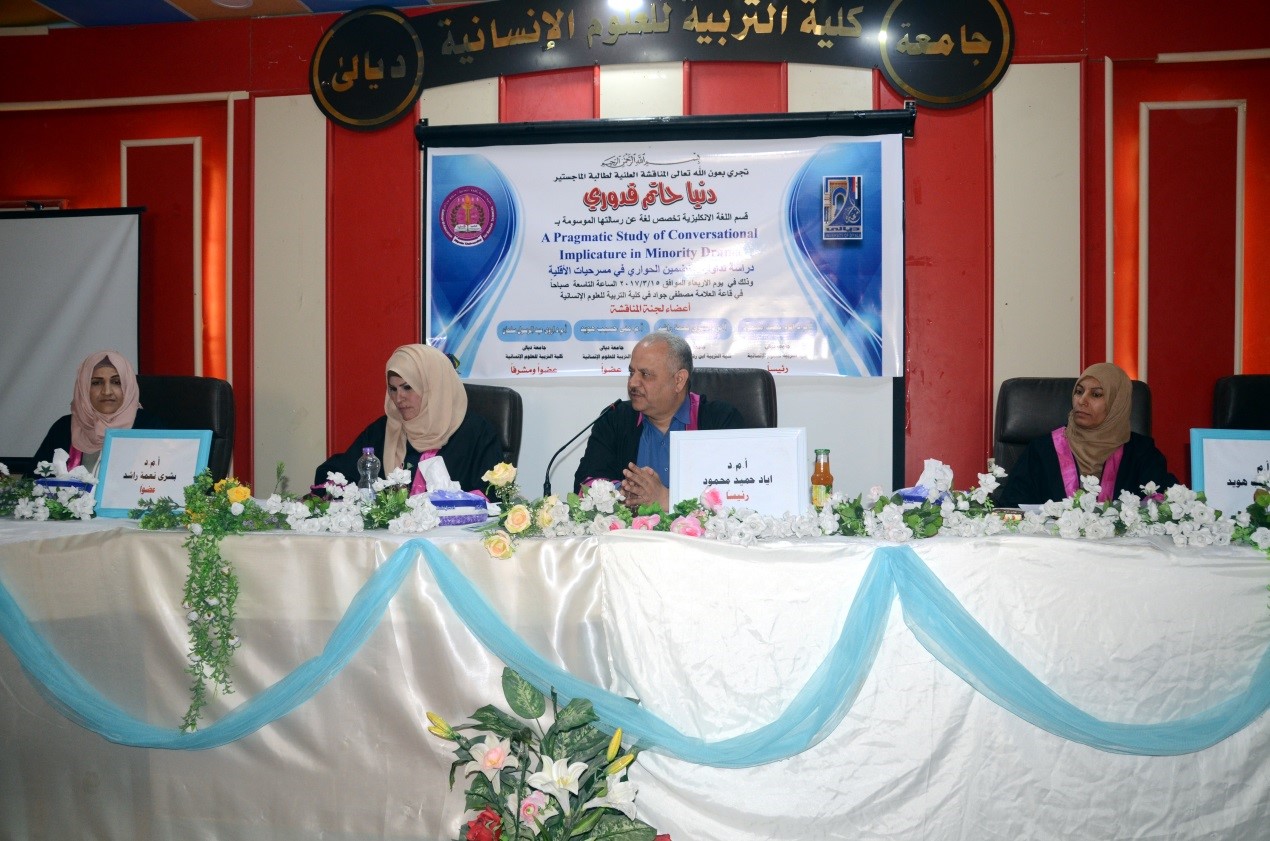 Master Thesis at the college of Education for Human Sciences discusses a deliberative study of the inclusion of dialogue in the plays of the minority
Master Thesis at the college of Education for Human Sciences discusses a deliberative study of the inclusion of dialogue in the plays of the minority
The thesis which was presented by the student ( Dunya Hatim Kadoori) aims to identify the inclusion of dialogue and analyze the specific data of the talks in the drama of the minority, and to explore to what extent the book uses the drama of the minority to include the dialogue, as well as to clarify the extent of violation of the book of the minority drama of the principle of cooperation, which returns to In addition to its four bases.
The study reached several conclusions, the most important of which was that by analyzing the specific data from the minority plays, it was discovered that the principle of cooperation for Grays, as well as its four rules, had been violated, and that the speaker might use the conversational inclusion for the purpose of reducing speech. The speaker might use a few words for expression For several meanings, this means that the speaker wants to reduce his words instead of using many words and this shows through the irregularities made by the speaker to the principle of quantityand that the inclusion of the dialogue is used by the speaker when he wants to exaggerate the idea of ​​what, which means that the writer or speaker may say the idea in an unusual way to attract the attention of the reader or the listener, and the book plays the minority use the inclusion of the dialogue in order to reference their culture,the study showed that the inclusion of the dialogue may be used to conceal some information about others, and may be used to avoid embarrassment of others, as well as being constant during translation, and the most common types of violation is the violation with the intent to inform the listener or reader purpose of inclusion, The most common is the modal inclusion which is especially dependent on the context of speech.
The study recommended the study of the inclusion of other types of plays of the non-Asian-American minority, and the study of the inclusion of teachers in the classroom, as well as the study of irregularities of the inclusion of dialogue, and its four rules in the psychological sessions in Iraq.
---