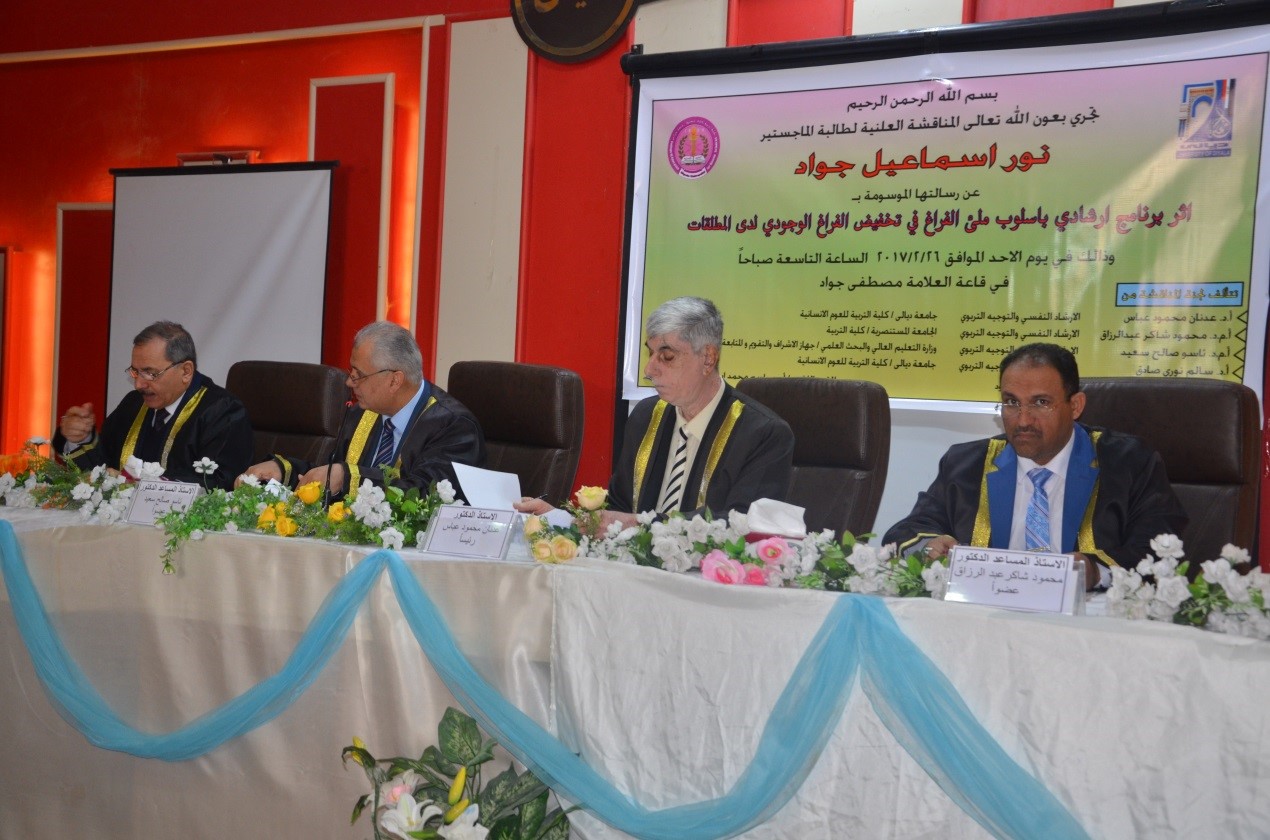 Master Thesis at the college of Education for Human Sciences discusses the impact of an instructional program in the manner of filling the void in reducing the existential vacuum of divorcees
Master Thesis at the college of Education for Human Sciences discusses the impact of an instructional program in the manner of filling the void in reducing the existential vacuum of divorcees
The thesis which was presented by the student( Noor Esmaeel) The aims to identify the impact of the educational program in the form of filling the void in reducing the existential vacuum of divorced housewives in the center of the city of Baquba in the province of Diyala for the year 2015-2016.
The study concluded several conclusions, the most important of which is that knowledge counseling is effective in reducing existential emptiness through the realization of divorced women of false and distorted ideas and beliefs. The method of filling the void has an effective effect in enlightening divorcees in their way of thinking by teaching them to focus on the ideas that occur during the experience, and the generation of appropriate ideas that pass through a series of mental processes such as attention, perception, and thinking, and activities and guiding techniques such as discussion, relaxation, play role, and promotion, has had the effect of reducing the existential vacuum of divorcees by improving the important aspects of personal problems such as overcoming them , Family and social harmony, and the use of the method of collective guidance has had an effect in reducing the existential vacuum of divorcees.
The study recommended the use of the guidance program prepared by researchers in the centers of childhood and motherhood research and women's organizations to reduce the existential vacuum of divorcees and raise the interest of researchers to conduct further research using the measuring tool that was built in the current research as a tool to detect The existential vacuum of divorcees and urged social welfare institutions, women's associations and civil society organizations to guide their role towards divorced women and to establish social centers and clubs in order to alleviate crises and to invest leisure time for divorced women in activities that develop their personalities, and educate the community through the media to promote the status of women in society in general and divorced women in particular, and to take care of post-divorce care for the purpose of psychosocial and social rehabilitation, which will help raise their social competence.
---